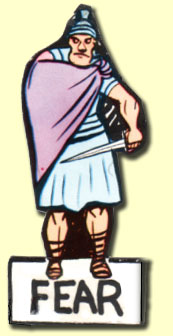 Lesson 2 Crossing the Jordan River
Joshua 3:1-17
So the spies that Joshua had sent into Jericho to spy things out made their way safely down the scarlet cord that Rahab had placed in the window, and out of Jericho. The two spies hid in the mountains for three days, and then they hurried back to the camp of Israel and told the good news to Joshua. They said, "The Lord will certainly give us the whole land—the people of Jericho are scared to death of us."
Early the next morning the Israelites packed up everything—all the tents and the tabernacle, and they gathered at the shores of the Jordan River. The river was overflowing its banks. HOW would they ever get across? Joshua said, "When you see the priests carrying the ark of the covenant from inside the tabernacle, follow them. Stay a half mile behind them, and don't get close. Tomorrow the Lord will do a great miracle for you."
On the other side of the river, the people of Jericho knew about the overflow of the Jordan River, and perhaps they thought, "We shall be safe from the Israelites as long as the waters rush too wildly down that stream; for surely our enemies will not try to cross over such a dangerous river."
But the next morning, Joshua told the priests: "Take up the Ark of the Covenant and lead us across the river." Even though the waters were still deep and the current swift and strong, God had said, "Go forward." Do you know why? God wanted to show His power once more. GOD IS THE SUPREME RULER OVER ALL THE EARTH.
To Joshua, the Lord said, "Today I will give a great sign in the sight of the people and they'll know that I'm with you just as I was with Moses. Tell the priests who are carrying the ark to stop at the edge of the river."
I want you to remember something: Remember the river was flooding—do you remember the Red Sea? God had wind blow all night and the Israelites could see path all the way across the river-bed of the Red Sea. It wasn't too hard to go on a dry path if you could SEE. But this time God was asking something else. He didn't make a path ahead. He said, "Tell the priests to stop at the water's edge—then the priests are to step into the river, and when they do, the water will stop flowing." ( For adults: You see, when we first come to the Lord, we're babies—we have to see a lot of things, but the more we know Him, the more He expects us to believe in Him without seeing. And that is exactly what He asked of the priests). So Joshua said to the people, "The Ark of the Lord of the whole earth will lead you across the river."
Would the priests believe and step in? The people watched and waited, and the priests put their feet in the river and suddenly, way up the river—it was as if an invisible wall went straight up in the river, and the water stopped flowing. God stopped the water far up stream so that it could not flow. Instead, it piled up in a great heap. All of the water flowed out of the river's bed where the Israelites were waiting to cross over. The priests moved out with the ark, and when they got to the middle of the river, they stopped, and the people started across—all their families—all their belongings—and they crossed the river near Jericho. The priests stayed there until all the people walked across to Canaan on dry ground.
The years in the wilderness were over. They had faced a great big river they could do nothing about. It was flooded---they stood still and watched God clear a path for them. They just put their lives in His hands, and that's the kind of believing God wants us to do.
A whole new life was beginning for the Israelites in a land God promised them over 400 years before, but what was the key that opened up the river? Believing—Faith—Believing that what God says, He will do.
When the Bible tells us that not only are we SAVED by believing God, but we must LIVE by believing God, and we who have trusted Him must believe Him for greater things every day.
Now some of you are thinking—"Well, I have trusted Him as my Savior, but did you know He wants you to put your whole life in His hands for everyday things all the time?
God was saying to the Israelites—"Step forward trusting in My power, for I am with you. We who have trusted Jesus as Savior have the assurance that He is always with us because Christ lives within every believer. God does not want Christians to be overcome by Giant Fear but to trust Jesus to help them.
For example:
(1) Sometime in situations you feel "nobody will like me, and I really need a close friend, but I don't have one." So you are fearful.
(2) Or maybe it's because of school work…maybe it's reading, or math…and you are afraid.
(3) Or perhaps a sickness or something else happens, and you become afraid.
If you know Jesus Christ as your Savior, He wants you to trust Him for all the details in your life: friends, homework, family members. Put all your cares in His hands, and ask Him to help you.
How do we learn to trust God more? By reading, thinking, and talking about the Scriptures. We will be ready to move forward trusting in God's power because we know He is with us. We read how God used Moses, Abraham, and Joshua just as He'll use you and me.
You will remember that the people of Jericho were caught unaware—they felt secure behind their high wall and wanted to continue trusting in their idols. The Bible says, "Be reconciled to God. Now is the day of salvation. The Lord will come as a thief in the night when you least expect Him."
The first step we take toward God is to admit we fall short. (We miss the mark) For example, the command of God is to honor and obey parents, and we are to love one another.
Examples for children:
Do you respond immediately when Mom calls you to dinner?
Do you come in from playing outside as soon as you are called?
Do you pick up your room every day?
Are you kind to brother or sister, or do you demand your own way?

The wages of sin is death (Romans 6:23). This death means separation from God. We are born with a sinful heart, and our sin makes a high wall which separates us from a Holy God. But God has made a way for sinners to be DECLARED right with Him. Jesus Christ, God's Son, came to take the penalty for sinners, and any who call upon Him He will in no wise cast out. May God help you to call upon Him today for the forgiveness of your sins.