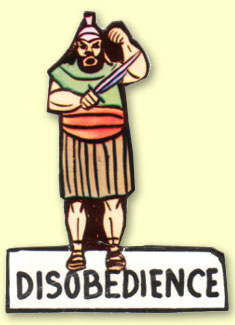 2 Samuel 5:1-5
Many years had passed since God sent Samuel to Bethlehem to anoint the shepherd-boy for Israel's king. During those years, David grew to manhood and became a mighty captain. He led his brave soldiers into battles, and God gave them many victories over their enemies.

After David went to live at Hebron, the men of Judah came to anoint him to be their king. David realized that now at last he was to be the ruler over all Israel and God had convinced the people of this also.
2 Samuel 6:1-15
David organized a magnificent procession (or parade) to bring the Ark of the Covenant to Jerusalem. Besides the great company of priests, Levites, and ordinary citizens, 30,000 soldiers came to escort the Ark of the Covenant to the City of Jerusalem. It was a very happy, joyous occasion.

Since David and the Israelites had not read God's instructions regarding transporting the Ark, David arranged for the Ark to be transported to Jerusalem on a brand new cart (or wagon), pulled by oxen. David arranged for Abinadab's sons to drive the cart. The Ark was covered with a blue cloth as the Law of Moses commanded. As the procession was on its way toward the capital city, the enormous crowd, especially David, rejoiced triumphantly.

But God did not want his people to handle the Ark in this manner. God had commanded that no one except the priests should even touch the Ark. They were to carry it upon their shoulders with staves. But David had forgotten God's command.

David and a company of musicians walked before the cart, playing on harps and other stringed instruments and singing praises to God. The other people followed, everyone feeling happy because David the King was trying to worship God in the right way. Suddenly everyone stopped, and the music ceased. One of the oxen that helped to draw the cart perhaps had stumbled for the Ark tottered as if ready to fall to the ground. The driver, Uzza, seeing the danger the Ark was in, reached out his hand and touched the Ark to steady it. Immediately Uzza fell down dead.

"What can this mean?" Everyone wondered. And David was frightened, too. He knew God had been displeased with some part of their plan, and he did not know what to do, so he left the Ark at the home of a man who lived nearby. Then he and all the people of Israel went back to their homes.

David could not understand why God struck Uzza dead for touching the Ark. They began to realize anew that God is holy. The Ark represented God's presence, but they had forgotten how holy God is and that they needed to follow His laws concerning the Ark. God used the death of Uzza to teach David and the people of Israel a great lesson. It is also a lesson for us. We cannot treat lightly the things of God. We must remember that when we approach God, we may come to Him only in the way he says, otherwise we incur His anger. In th Bible we are told that the only way we can come to God is through faith in the death and resurrection of Jesus Christ.

David made a mistake. Either David did not remember the command of God or he thought his way was better than God's way. A long time before this God had given directions for moving the Ark. It was first to be covered with the blue cloth. Poles were to be placed in rings attached to its sides. Then it was to be lifted to the shoulders of priests, the Levites, who were to carry it like that.

In this instance, David did not seek out God's instructions. Is that ever true of us? Do you have a friend who is unaware they are to obey their parents?. When their mother asks them to take out the trash or turn off the TV, they are unaware that God wants them to obey immediately.. In reading the Bible we know God instructs us to obey our parents in all things. Does this include even the trash and the TV? Yes.
Or perhaps there is someone in your class who bothers you and you dislike them. God's Word says we are to love our enemies, and one way we can do this is to be praying for those around us who are annoying or unlovely.

So it's important not only to know what God expects of us, but then we want to ask him to enable us to do it. The Bible says, "For my thoughts are not your thoughts, neither are your ways My way. (Is. 55:8)

Although David sinned in his life just as you and I do, he knew God required a payment for his sin. In Old Testament times, the only way sin could be covered was through the sacrifice of an animal without blemish. Bringing an animal sacrifice without blemish was a picture of Christ who would come, live without sin, and become a sacrifice to pay for the sins of others at Calvary. Yes, at the cross at Calvary, God the Son, Jesus Christ paid for sin once and for all.

You remember, that Uzza was struck dead for disobeying the Law, and that the Ark then was taken to a home. After several months had passed, word came to David that God was blessing the man at whose home the Ark had been left. So David sent again to bring the Ark to Jerusaleum. This time David called for the Levites and commanded them to carry the Ark (Numbers 4:5, 15, 20) Again he and other musicians went before the Ark, singing and playing on stringed instruments. An they brought the Ark safely inside the city walls and placed it inside the tabernacle. Then they offered burnt offerings and peace offerings before the Lord..
2 Samuel 7:1-15
And it came to pass when King David sat in his house, and the Lord had given him rest from his enemies he said to Nathan, the prophet: –"I dwell in a house of cedar. But the Ark of God dwells within curtains, perhaps God would have me build Him a house." Although David wanted to build a house for God, God said to Nathan, "I will make David a house; and his house, his kingdom, and his throne shall be established forever. I took David from tending the sheep to be the ruler over my people, over Israel and was with him wherever he went, cut off his enemies, and made his name great. God also said to Nathan, "When David's days are over, I will set up his seed, or children, after him and I will establish his son's kingdom and throne, and David's son shall build a house for my name.

What did God mean when He said to David, "I will set up your throne and your kingdom forever? How long is forever? Now here is something very interesting so listen carefully and you will understand. God said if David's family would obey Him, their kingdom would continue. He also said if they disobeyed, He would punish them. For many years after God's promise to David, the kings disobeyed God. And God punished them because of their sin. Enemy nations marched into the land of Israel. All of the people of Israel were captured and taken away out of the land, including the king. So what about God's forever promise?

Well, here is something wonderfully exciting! It happened about 400 years later that God sent an angel to bring a message to a young woman whose name was Mary. This was the message: "You shall give birth to a son. You shall call his name Jesus. He shall be great and shall be called "the Son of the Highest." Now listen to these words! "And the Lord God shall give Jesus the throne of his father David." You see, Mary, the mother of the Lord Jesus, was from the family of David. But that was not all that the angel told her. "And the Lord God shall give him the throne of his father David. He shall be king over the house of Israel forever." (Luke 1:26-33)

Think for a moment, was the Lord Jesus ever crowned king by Pilate in Jerusalem? No. The only crown he wore was a crown of thorns. The Lord Jesus Christ, God's only Son was nailed to a cross where He died. His body was placed in a garden tomb. So what about God's "forever promise"?

Did the Lord Jesus remain in the grave? No! Up from the grave He arose, and He is living today in Heaven. And someday He is coming back to earth to rule as King! If you are a Christian, then you and I will be there to see Him. We will praise the Lord Jesus our King together! Every president, every dictator, every king and queen, every nation will be under His rule. The kingdom of the Lord Jesus Christ will reach throughout all the universe. And His rule will never end. (Luke 1:33, Phil. 2:11) This will be God's forever promise to David come true. Truly He who promised is faithful.
Prayer:
O God, we praise You! You are a faithful God. You always keep your Word. What you have promised, that You will do. Thank you for Your merciful kindness to us, and that Your Truth endures forever.