Lesson 5 How Israel was Fooled
Joshua 9:3-27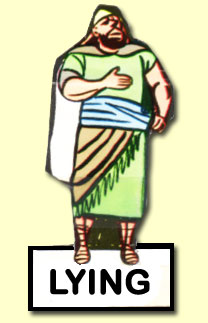 Let's think about God. God is a Trinity. What is a trinity? A trinity is three in one. So there are three persons in the Godhead—God the Father, God the Son, and God the Holy Spirit. Each person is 100% God. Are they all the same? No. They have different personalities, yet they are the same God. We can't understand it, but we can believe it. Now God the Father has His job to do, God the Son has His job to do, and God the Holy Spirit has His job to do. And which is more important? Is God the Father? No. One is not more important that the other. They just have different jobs to do. Each has His own job to do.
God the Father sent God the Son into the world to be our Savior. Well, God the Son died on the cross to be our Savior, and went back into heaven and sent the Holy Spirit down into the world to live in the heart of Christians—to guide and teach Christians to do all the things they need to do. So each One has His place.
In our story today, when Joshua faced the task of leading the Israelites into the promised land he needed to know that God was with him. God's presence made Joshua the kind of leader he was. God removed his fear, gave him courage, strengthened his faith, got him over the rough spots and kept him going. Whenever he was in trouble or had a problem, big or small, Joshua remembered God saying, "I will go with you; I will not fail you or forsake you."
But sometimes we forget about staying close to God. We forget how dependent we are on Him for guidance and for wisdom. Joshua and the leaders of Israel ran into this problem, as we learn in this lesson.
One day a band of strange men came to the camp at Gilgal. Their clothes were worn out and their shoes were full of holes. Their donkeys carried on their backs old sacks that were ready to fall to pieces. Even the skin bottles, which these men had used for carrying wine, were old and torn, and the little bit of bread that remained in their sacks was dry and moldy.
Now remember that God had promised the land to Joshua, and he and the children of Israel were to destroy all the inhabitants of the land. The Promised Land included the neighboring country called Gibeon, which we will hear about later.
These strange men asked to speak with Joshua and with his officers. They said they had come from a country very far away, and that their people wished to be friends with the Israelites. But the men of Israel answered, "We do not know who you are. You may live in Canaan, and we cannot be friends with these people of Canaan because God has told us to destroy them all." The men showed their moldy bread and said, "See, we brought this for our journey and it was hot when we took it from our homes. We are indeed from a far country. When we heard how your God brought you from Egypt and helped you to destroy your enemies, our people became afraid of you and they sent us to ask you to let us live and become your servants." These men were deceiving Joshua, but were they able to deceive God? Does God see what's in our heart when no one else can? So if I lie, am selfish, envious, jealous, ungrateful, have a know-it-all attitude, does God see? Yes, He does.
Joshua and his men examined the bread and saw that it WAS moldy. They believed the story the men told them. Joshua and his officers did not know they were being tricked and worst of all, they did not take time to pray about it. The Bible says, "They asked not counsel at the mouth of the Lord." Joshua thought the matter was so clear that he had no need to seek God's direction. So instead of talking to God about these people and asking God what to do, Joshua promised to let these men live and sent them back again to their homes.
After this happened, the Israelite soldiers went out again to battle against the people of Canaan. The Israelites had not gone very far when they came to the part of the land where the Gibeonites lived. Then they learned that the strange visitors at Gilgal had come from Gibeon. They were near neighbors to the Israelites. They had taken dry, moldy bread and worn-out shoes on purpose to make Joshua and the officers of Israel believe they had come from a country far away. But really, they were Canaanites—people whom God wanted the Israelites to destroy.
Joshua was careful, he was a thoughtful man, he was kind, he was polite—but he was fooled. If Joshua and the officers had talked to the Lord about it first, instead of going ahead with their own thinking, they would have been saved from being fooled.
Since the Bible is our guide for decision-making, one excellent source of wisdom in daily living is the book of Proverbs, chapters 1-31. It tells us how to choose friends, how to treat them, how to avoid sin, and what is pleasing and displeasing to God. Since there are 31 chapters, some people like to read one chapter a day!
The Israelites talked to the Lord about the battles and the big things, but they thought that this was such a little thing, just making an agreement with people who spoke so well of their God, and Satan fooled them. God had told them to destroy these wicked people, but now that they had made a promise to them, they could not break it. Did you notice the Gibeonites spoke of God too?
Well, how can we know? First, we must talk to the Lord about any new thing, and about everything in our lives, whether it be little or big.
Praying is talking to God. When do Christians pray? You have a Bible verse that says "Pray without ceasing." (1 Thes. 5:17) What does this mean? Does this mean that all we do is pray? No, it means that if Jesus is your Savior, that you can talk to God anytime: evening, morning, and at noon. (Psalm 55:17) and then also, Christians need to study God's Word because that's how God teaches us.
For example, if we are reading Proverbs, (one chapter each day) we will learn how to respond wisely. Unless we know what the Bible teaches, we can be deceived. Satan is clever. But greater is Christ that is within a Christian than Satan is. Satan can do nothing without permission of the Father. Nothing touches a Christian's life that has not been filtered through the loving hands of God the Father. Isn't that comforting to know?
The men of Israel were angry because they had been fooled. Joshua sent for the Gibeonites to come to Gilgal, and asked, "Why did you not tell us the truth? The men told Joshua they lied because they were afraid. (9:24-27) Joshua said, "Because you did not speak true words to us, you and your people can never again own your houses and land. Now you must be our slaves and do the things we tell you to do. Every day you must gather wood and bring it in wagons to the people, and every day you must carry water for us. So the Gibeonites paid for their deceit for the rest of their lives.
Again, we see that sin has consequences. Joshua failed to talk to God in prayer about these strangers, but the Lord wants Christians to ask Him about everything that comes into our lives, especially about things that happen quickly. When someone tries to get us to do wrong, we can always pray, "Lord, help me." Even a short prayer is heard by God and brings help from our powerful, loving God. Don't be fooled in thinking a problem is too small or that you shouldn't bother the Lord with that. God wants us to trust Him with everything.
The Bible gives us some very good advice in Proverbs: "Trust in the Lord with all your heart, and do not lean on your own understanding."
If you have listened to all that happened to Joshua and know in your heart you've never trusted God for the forgiveness of your sins, you can do this today. When Jesus was on the cross, He was taking the punishment for sinners like you and me. In those hours of darkness, the Father turned his back on His Son because sin was laid on Him, and then God the Father poured His wrath upon Jesus Christ. Christ took the wrath that I deserved so that I could be declared right with the Father. Thank the Father today for sending Christ.
"Believe on the Lord Jesus Christ, and Thou Shalt be Saved." (Acts 16:31)
Prayer: Father, I thank You for the privilege of coming to you in prayer. Without the sacrifice of your Son, Jesus Christ, we could not do this—we would be separated from You. Thank You for sending Him to die for sinners. May many call upon the Lord in faith today. In Jesus' name, I pray. Amen.